FOR OVER 15 YEARS, the people of Gaza have lived under an Israeli-imposed blockade that severely limits travel, trade, and everyday life for its 2 million residents.
Israel first imposed the blockade on Gaza in 2006 after Hamas won the Palestinian elections. In 2007, Israel tightened the blockade after Hamas took control of Gaza and split from the Palestinian Authority in the West Bank. The blockade effectively bans nearly all exports from Gaza, severely limits imports to Gaza, and closes the Gaza border for exit by Gaza residents and entrance by others.
The impact of the blockade has been devastating. Today, Palestinians in Gaza don't have reliable access to clean water, electricity, and many other services. Construction is limited, hospitals are under resourced, school systems have degraded, and the economy has been destroyed. Gaza's unemployment rate stands at 45%—one of the highest unemployment rates in the world—and over 80% of the population depends on international assistance to survive.
The United Nations and International Committee of the Red Cross have both declared the blockade to be an illegal form of collective punishment against the Gaza population under international law. The blockade must end, and change will only come through political action.
Impacts of the Blockade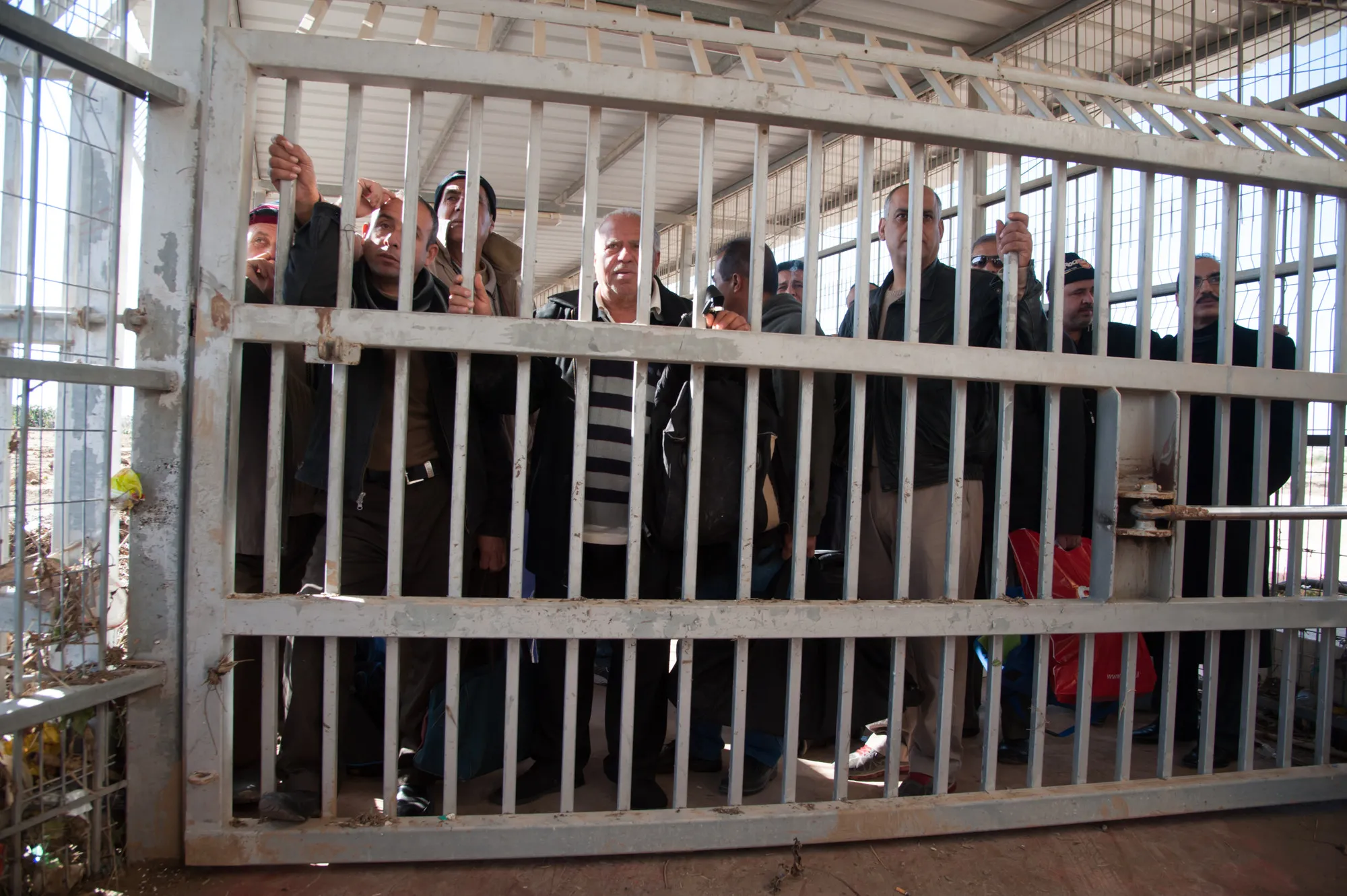 Israel has controlled the movement of people and goods into and out of Gaza for decades, but since the imposition of the blockade in 2007, restrictions have been severely tightened.
The Israeli-controlled Erez Crossing, located on the northern edge of the Israeli-built wall around Gaza, is the only crossing through which civilians can travel between Gaza and Israel. At the start of the Second Intifada, or Palestinian Uprising, in 2000, around 26,000 people were allowed to leave Gaza each day via the Erez crossing.
During the first nine months of 2021, the number of Palestinians allowed to leave Gaza each day averaged only 86 per day, just 17% of the daily average of 500 in 2019 and less than one percent of the daily average before the beginning of the Second Intifada.
Nearly all access to the outside world is blocked for the residents of Gaza. Students are denied exit to study abroad. Patients needing medical treatment not available in Gaza are delayed or blocked from reaching care. People with families in other parts of the occupied Palestinian territory are kept from seeing their relatives. People wishing to leave to pursue work in other places are blocked from doing so.
The only official crossing for goods into and out of Gaza is through Kerem Shalom, and any imports and exports must be regulated through a list of controlled entry items created by Israel. Israel has periodically closed Kerem Shalom entirely, including for short periods in 2018, 2020, and 2021. Severe restrictions on the import of many basic goods, including the raw materials necessary for industrial production, construction materials, medical supplies, fuel, and many consumer goods remain in place.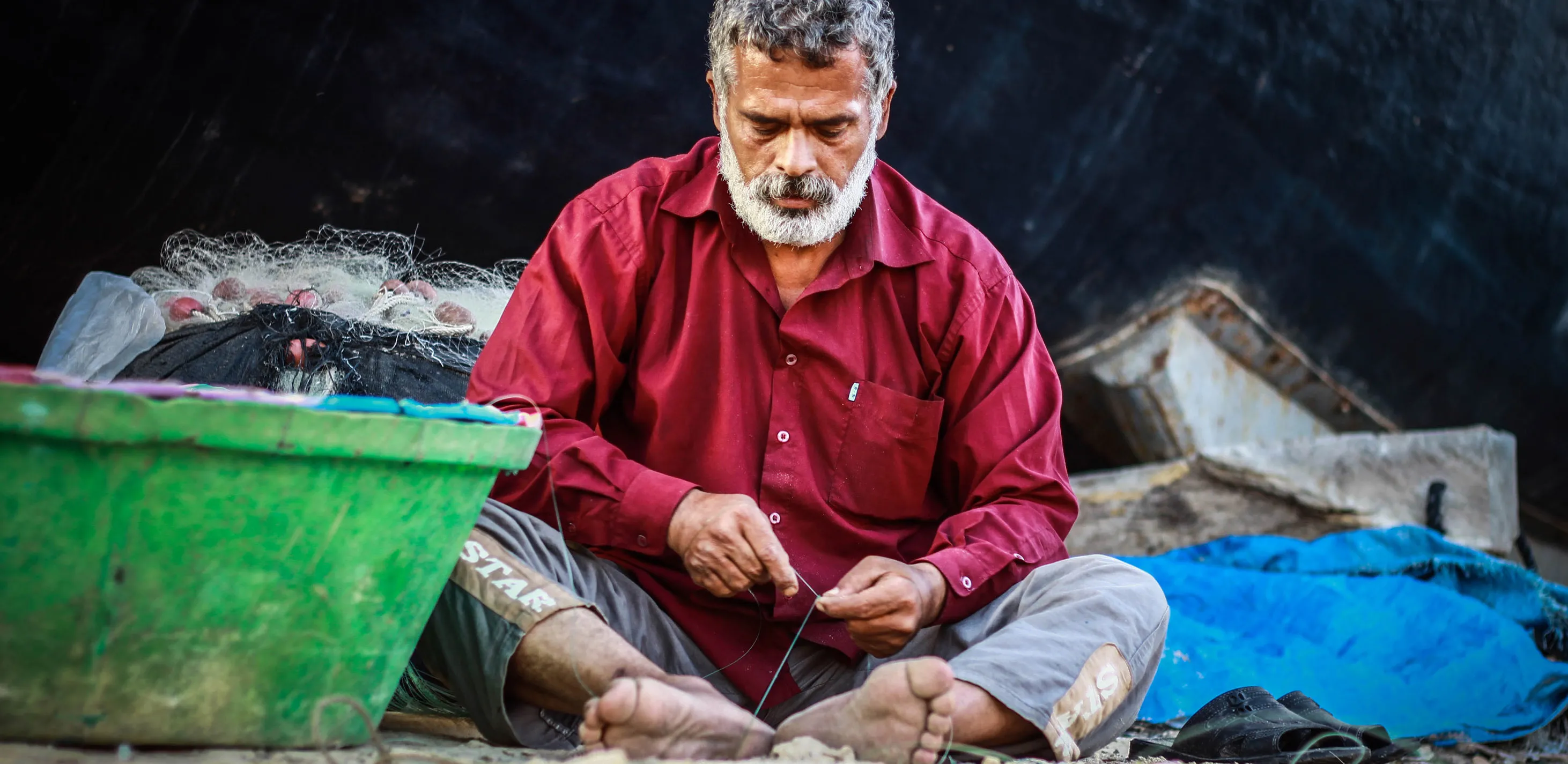 Many of the basic raw materials and resources needed to produce goods in Gaza are blocked from entering Gaza, and exports are down nearly 70% from their pre-blockade levels. Electricity is available for just half the day, fuel is limited, and in most areas of Gaza, access to water is severely restricted.
Together, these factors—combined with repeated Israeli military attacks on Gaza—have destroyed Gaza's business and industry, resulting in the closure of 90% of factories and workshops. Other key sectors of the Gaza economy, including fishing and farming, have also been impacted by the blockade. As a result, Gaza's unemployment rate is approximately 45%, one of the highest in the world.
Like the rest of Gaza, hospitals and medical clinics have a limited supply of electricity, requiring them to rely on generators, which are expensive and do not provide dependable access to electricity. Fluctuations in the electrical supply impact sensitive medical equipment such as ultrasounds, X-rays, laboratory machines, cardiac monitors, sterilizing machines, and infants' incubators, putting patients' lives at risk.
Gaza doesn't have the means to treat cancer patients, people who need heart surgery, and other complicated health procedures. These patients need medical care in Israel, the West Bank, or elsewhere. But under the blockade, movement restrictions delay and block access to treatment for patients, at times with fatal results. Only 65% requests for permits to leave Gaza to receive medical treatment were approved in 2019. In the week after Israel's May 2021 aggression on Gaza, Israel rejected or ignored 93% of applications for exit permits for Gazan medical patients.
The blockade also prohibits the import of vital medical equipment, including X-ray, MRI, and other laboratory machines. Imports of life-saving medicine as well as basic medical supplies are also often delayed or blocked, leading to severe shortages. Israeli officials have also repeatedly turned away World Health Organization trucks full of medical supplies, without explanation. Approximately 39% of essential drugs and 21% of essential medical disposables are out of stock each month in Gaza.
There are nine community mental health centers in Gaza, in addition to one psychiatric hospital with limited capacity. However, the needs are far greater than the available resources. There are fewer than 300 mental health professionals for a population of over two million, who regularly face war, bombardment, and the daily effects of siege.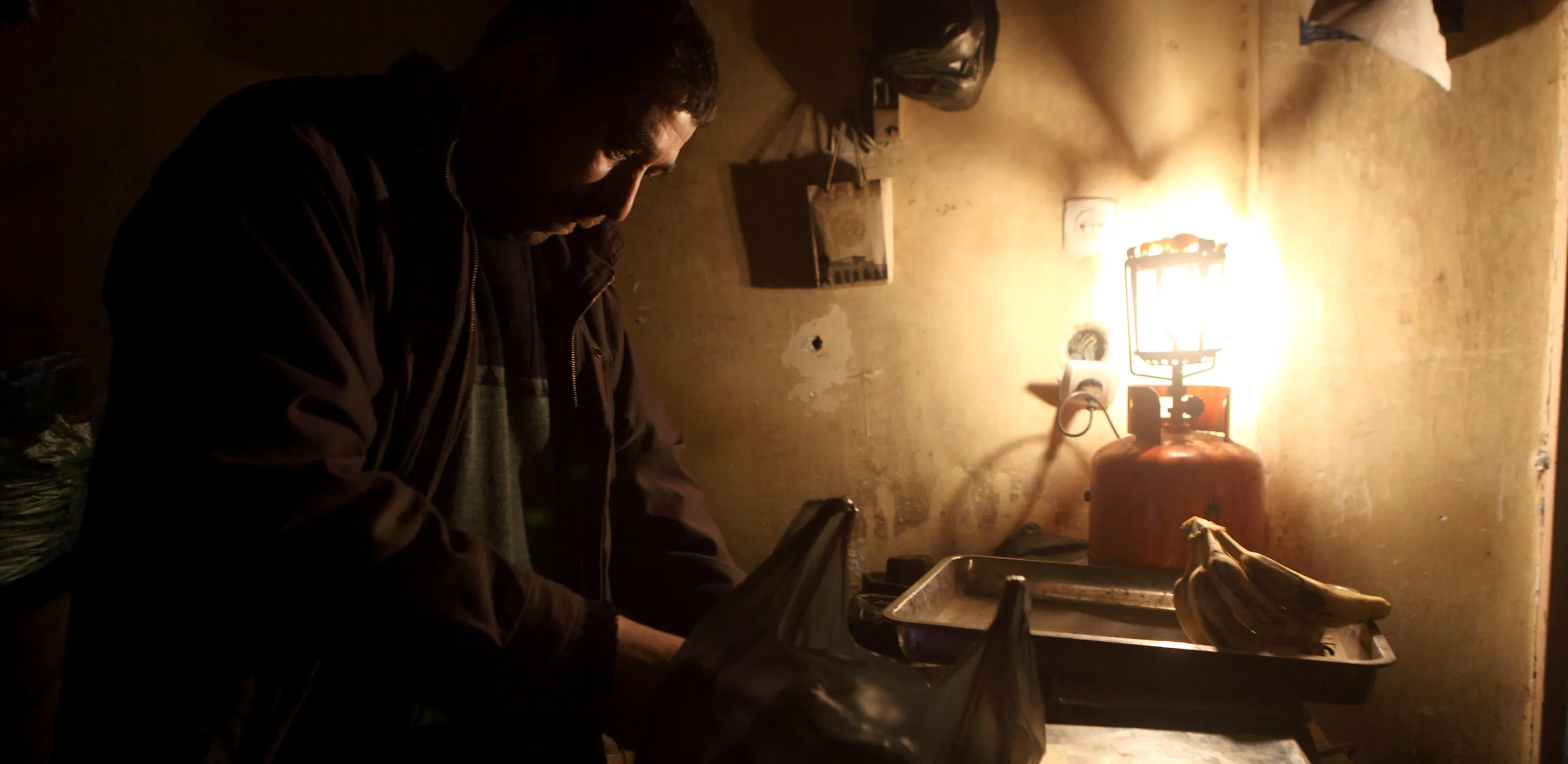 Today, less than half of Gaza's electricity demand is being met. Rolling blackouts leave Palestinians in Gaza with only about half a day of electricity—affecting the health and well-being of residents; jeopardizing critical services, such as hospitals, schools, and water sanitation; and making it impossible for businesses to function.
Many factors contribute to this situation, including Israeli restrictions on the import of fuel, cuts in the amount of electricity supplied, and damaged and destroyed infrastructure due to Israeli bombings. Even basic electrical components are blocked from entering Gaza by the Israeli authorities, worsening this crisis. As a result, Palestinians in Gaza remain without regular access to power.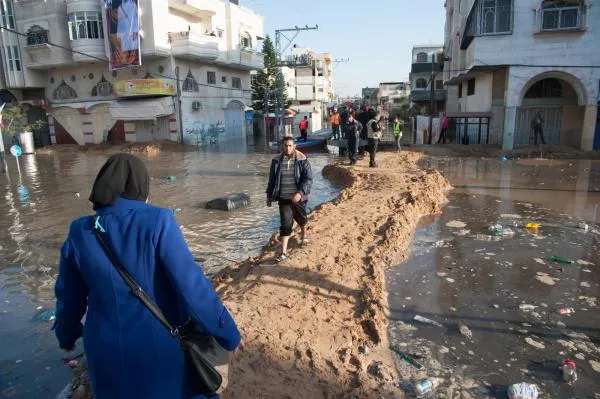 Gaza has long faced a water crisis. Overexploitation of the Coastal Aquifer on which Gaza relies—combined with contamination from chemicals, wastewater, and other pollutants—has created a situation in which 98% of Gaza's water supply isn't fit for human consumption.
This situation is compounded—and, in part, caused—by repeated Israeli military attacks on Gaza that have damaged or destroyed water and sanitation infrastructure, including desalination plants, wells, and waste management facilities. The blockade has also prevented Gaza from repairing or replacing this infrastructure, as Israel prohibits the import of key materials that are needed.  
As a result of damaged infrastructure, only one in ten households have access to safe drinking water. Twenty-eight percent of the population is not connected to the sewage network. Even where the sewage network is accessible, the energy crisis has forced wastewater treatment plants to shorten treatment cycles, causing a backflow of sewage onto streets and the discharge of partially treated waste into the Mediterranean Sea. Sewage treatment plants are unable to operate fully due to the electricity crisis, which results in the equivalent of 43 Olympic-sized swimming pools of raw or partly treated sewage being pumped into the sea every day, contaminating the vast majority of Gaza's beaches.
The blockade has had a devastating impact on the Gaza population, affecting all aspects of life.
During the first nine months of 2021, only 86 people were allowed to leave Gaza per day on average, just 17% of the daily average of 500 in 2019 and less than one percent of the daily average in 2000.

Sixty-four percent of Gaza households are food insecure, and approximately 80% receive some form of food assistance.

Gaza's unemployment rate is over 45%, one of the highest unemployment rates in the world. Youth unemployment is over 65%.

Due to fuel shortages and damaged or destroyed electrical infrastructure, there are power outages for up to 11 hours per day in most areas of Gaza.

Only one in ten households have access to safe drinking water.

Over 98% of the water extracted from the Gaza aquifer is unsafe for human consumption, while needed filtration equipment cannot be imported to Gaza.

The equivalent of 43 Olympic sized swimming pools of untreated or partially treated sewage are dumped into the sea off Gaza every day. Equipment needed to build new or maintain existing treatment facilities is banned from entering Gaza.

In addition to the toxins of the bombs and munitions dropped on Gaza, Israel's bombing of one of Gaza's largest stores of pesticides and fertilizers in May 2021 released carcinogenic chemicals that damage the environment including the soil, groundwater, and by extension food supply, leading to acute health concerns.

Approximately 39% of essential drugs and 21% of essential medical disposables are out of stock each month in Gaza.
Despite the human suffering caused by the blockade, the situation in Gaza is not a humanitarian crisis that can be resolved through international aid and assistance. It is a political crisis that results from the blockade that can only be resolved through political action.
The blockade: Failed policy
In 2006, Dov Weisglass, advisor to then-Israeli Prime Minister Ehud Olmert, said that restrictions on Gaza were imposed to "put the Palestinians on a diet, but not to make them die of hunger." Restrictions and blockade followed Israel's 2005 redeployment from Gaza, as it abandoned Israeli settlement in the territory in order to implement greater control and isolate it from the rest of Palestinian territory. Israel justified increasing restrictions and blockade on the 2006 election of Hamas in Gaza. And yet after a decade and a half, it should be clear that Israeli justifications for the blockade do not stand up to scrutiny: the blockade has not weakened Hamas, brought "security," or stopped violence. Instead, the world has witnessed four major Israeli wars on Gaza featuring massively disproportionate violence by Israel, and the transformation of the Gaza Strip into an unlivable territory.
Israel has treated Gaza as a laboratory for testing new weapons and methods of control: new technologies of surveillance, drones to spray "skunk water" and teargas, experimental explosives, "smart fences" and other forms of spatial control. Israel's arms industry, a primary sector in its economy, then exports these technologies to other regimes around the world.
This targeting of Gaza's population is what led the U.N. and International Committee of the Red Cross to declare the blockade an illegal form of collective punishment under international law.
The blockade must end.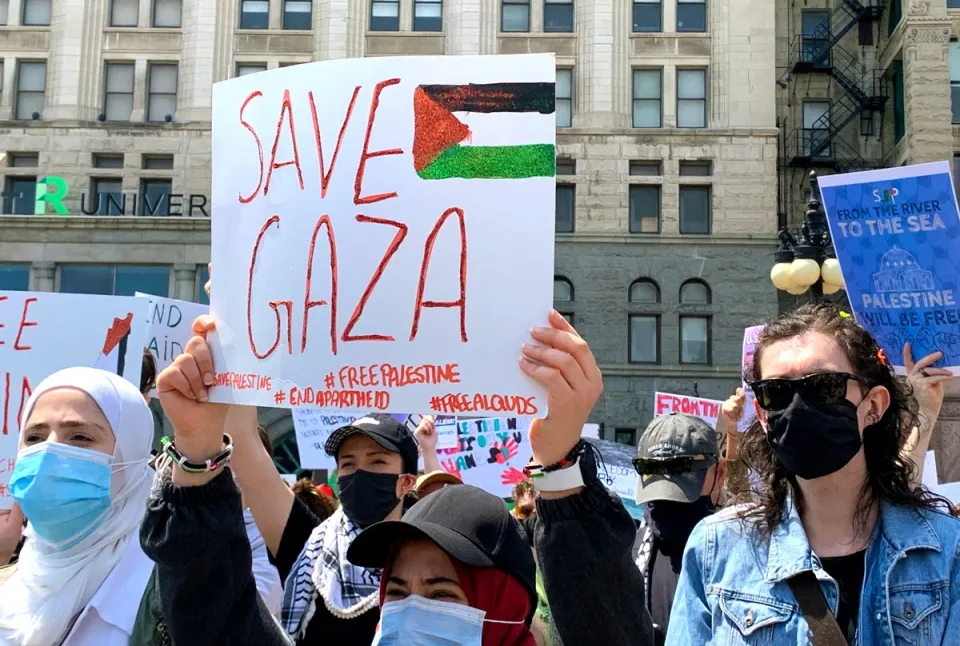 Demand an immediate end to the blockade on Gaza: U.S. government policy officially supports Israel's continued blockade on Gaza even as it faces humanitarian collapse and the disastrous effects of four major Israeli aggressions. The blockade is illegal and immoral and must end. Organize in solidarity, take part in protests, and contact your elected officials and demand that they call for an immediate change in U.S. government policy and an end to Israel's blockade on Gaza. Join the growing Palestine rights movement to educate, advocate, and demand change.
The following organizations in the occupied Palestinian territory and Israel address and challenge Israel's policies on Gaza: