No portion of Gaza's economy has been left untouched by the blockade.
Many of the basic raw materials and resources needed to produce goods in Gaza are blocked from entering Gaza, and exports are down approximately 70% from their pre-blockade levels. Electricity is available for just half the day, fuel is limited, and in most areas of Gaza, access to water is severely restricted. Together, these factors—combined with repeated Israeli military attacks on Gaza—have destroyed Gaza's businesses and industry, resulting in the closure of the vast majority of factories and workshops.  
Other key sectors of the Gaza economy, including fishing and farming, have also been impacted by the blockade. Under the Oslo Accords, Palestinian fisherman in Gaza should be able to fish anywhere within a 20 nautical-mile fishing zone. Since the blockade was imposed, however, Israel has imposed various restrictions on Gazans' access to the sea, for many years only allowing fishing within a zone between three and six nautical miles off the coast of Gaza. In 2019, it extended the fishing zone to 12 and 15 nautical miles, but has repeatedly reduced it and closed it entirely since then. These restrictions have negatively affected the fishing industry and the livelihoods of those who rely on it. 
Farmers, too, have been devastated by the imposition of a no-go zone that extends up to one kilometer into Gaza along the boundary with Israel, which limits Palestinian access to 35% of prime agricultural land. Israel also controls Gazan farmers' ability to export crops to the West Bank and elsewhere, and frequently—and unpredictably—bans the export of crops or imposes other measures that make it difficult for farmers to export. 
The impacts of the blockade exacerbate the decades-long de-development of Gaza's economy by Israel. De-development created dependence on Israel for Gazans to access employment. However, since the blockade, Israel has prevented Gazans from accessing employment inside Israel and the West Bank; this has dramatically increased unemployment rates and poverty levels. 
Quick Facts: Impacts of the economic crisis
Gaza's unemployment rate is over 45% – one of the highest in the world. Youth unemployment is over 65%.  

Sixty-four percent of Gaza households are food insecure, and approximately 80% receive some form of food assistance.1 

Among those working in Gaza's private sector, over 80% earn less than the minimum wage of $470 per month, compared to just 7% in the West Bank. 

Since 2007 the Gaza gross domestic product (GDP) has shrunk from $1.2 billion to $668 million in 2021—nearly 50%.  

In 2000, Gaza had 10,000 fishermen, but due to Israeli restrictions on the industry, only about 1/3rd that number are fishermen today. 2  

In 2005, 10,000 trucks of exports left Gaza (an average of over 800 per month) and 85% of exports were sold in Israel and the West Bank. Between 2007 and 2014, only 13.5 trucks of exports left Gaza due to Israel's closure. In 2021, an average of 224 trucks left Gaza each month. Israel continues to prevent exports entirely on occasion. 3  

Once an integral part of Gaza's economy, farming now only accounts for 4.8% of Gaza's GDP due to the difficulties under the blockade. 4 The labor force participation in agriculture has dropped from 32% in 1970 to 4.7% in 2019. 5  
1 World Food Program, "Palestine"  (2022).
2 Gisha, "Gaza Up Close" (September 2021).
3 Gisha, "Palestinian Labor Force Survey: 2019 Annual Report" (2019).
4 Wilson Center, "Food Insecurity in Palestine: A Future for Farmers" (August 2021).   
5 Palestinian Central Bureau of Statistics, "Palestinian Labor Force Survey: 2019 Annual Report" (2019)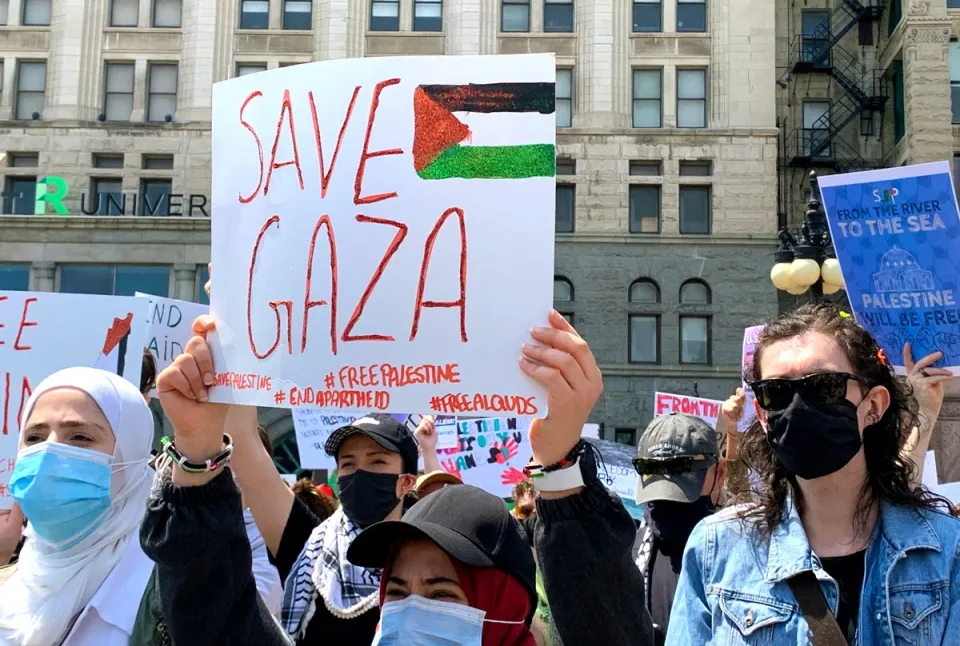 Demand an immediate end to the blockade on Gaza: U.S. government policy officially supports Israel's continued blockade on Gaza even as it faces humanitarian collapse and the disastrous effects of four major Israeli aggressions. The blockade is illegal and immoral and must end. Organize in solidarity, take part in protests, and contact your elected officials and demand that they call for an immediate change in U.S. government policy and an end to Israel's blockade on Gaza. Join the growing Palestine rights movement to educate, advocate, and demand change.
The following organizations in the occupied Palestinian territory and Israel address and challenge Israel's policies on Gaza: