Two years ago I interviewed Samar Zaanin in Gaza. Samar, then 24, worked as an English teacher in a United National Relief and Works Agency (UNRWA) school in Gaza.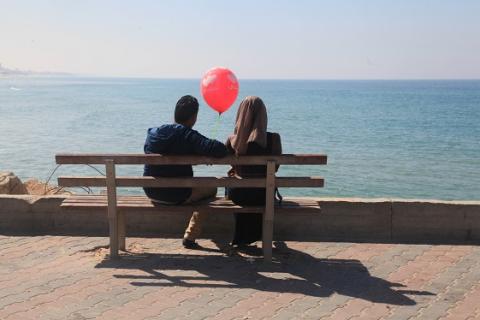 Two years ago I interviewed Samar Zaanin in Gaza. Samar, then 24, worked as an English teacher in a United National Relief and Works Agency (UNRWA) school in Gaza. A year before I spoke with her Samar had married a man from the West Bank who she had met in 2012. Their relationship blossomed at a distance and eventually they decided to marry despite living in different locations.
In other parts of the world the distance between the West Bank and Gaza would be no obstacle to a young couple. Driving between the two areas takes less than an hour. But in the case of Palestine that short distance is an unbridgeable divide. Despite their marriage, Samar and her husband were not able to live together. Israel would not allow her husband to leave the West Bank to join her in Gaza and also would not allow Samar to relocate to join her husband in the West Bank.
The blockade continues to make it nearly impossible for most people to leave Gaza, particularly within a defined time period. College students can't leave in time to attend school in the West Bank or abroad. Patients can't leave quickly or easily for treatment outside (if they can leave at all). People can't leave for weddings, to visit the family, or for work trips.  
That said, when the Egyptian border opens there are opportunities to leave and an increasing number of young people are now leaving with no plan to return to Gaza.
Samar is one of those people who has been able to leave Gaza through Egypt.  Last year she moved to Turkey where she was finally united with her husband.  For Samar pursuing life and love has meant leaving Gaza.
Stories like Samar's are increasingly common. For the last five years the American Friends Service Committee (AFSC) has run a youth program in Gaza that works with young adults between the ages of 22 and 30. AFSC's staff in Gaza estimate that 30 to 40 percent of the youth who have participated in our program during that period have left Gaza over the last few years.
Leaving takes patience, multiple attempts, and money, but young people are leaving when they can to pursue opportunities not available in Gaza.  
This should not come as a surprise. Over the last decade young adults in Gaza have repeatedly described to me how the ongoing blockade is stealing their future and limiting their dreams. Through TV and the internet youth in Gaza catch glimpses of what life is like in other parts of the world, where movement is not restricted and where opportunities are open. But that reality is a distant dream in a place where over 60% of youth are unemployed, electricity is available for no more than six hours per day, poverty is endemic, and movement is all but impossible – all results of Israel's blockade.
In Gaza people tell me not to present them as victims of their situation.
"Tell people that we are just like them."
"Say that, like them we have simple dreams and that we want a good life, safety for our family, and opportunities to grow".
"Make it clear that, like anyone else, people in Gaza want to fall in love, have families, and grow old in peace."
This is all true, but the blockade also grinds people down.
College educated and middle-class youth who would otherwise be starting careers and families face unemployment and uncertainty. Their dreams and future have been stripped from them. These young adults are moving for better opportunities and most of us would do the same if we were in their situation, but the loss of a generation of educated and middle-class youth will have a lasting impact on Gaza's future.
And for those who remain, hope is slipping away. The day after I left Gaza I heard from contacts in Gaza that a young man known to many of the youth we work with had died by suicide. He was at least the second young person that I know of to die by suicide in September, and numbers are likely higher as suicides are not openly discussed.
People in Gaza want an end to the political repression and violence that they face, but change requires political action by Israel and the international community, and at present there is no political support for change.
The latest elections confirmed that no change will be coming from Israel. The Israeli political system is in disorder and it now looks like a third a round of elections will be held this year because the parties can't form a majority governing coalition. However, it needs to be clear that the disagreement between Israeli parties is not about how Palestinians should be treated, particularly Gaza. Benny Gantz, who leads the main party opposing Netanyahu and the Likud, ran on a position to the right of Netanyahu on Gaza and called for increased violence to repress Palestinians in Gaza.
After these latest elections over 90 of the 120 seats in the Knesset are controlled by parties on the political right and there is unity between these politicians regarding the need to continue isolating Gaza.
But the isolation of Gaza cannot be allowed to continue. Palestinians like Samar and her husband deserve the right to live where they want within Palestine and no more Palestinians from Gaza should be forced to leave Gaza because the blockade and occupation limit their freedoms and opportunities.  There must be change, and with no possibility of change coming from Israel, the international community must be the party that acts to protect the rights of Palestinians in Gaza. The alternative is to watch silently as gradual ethnic cleansing occurs.